Saturday December 1, 9:00am – 2:00pm
Conference videos presented at the Kitchener Public Library
Registration: $10
(Lunch available for purchase at the cafe')
Throughout the Bible, we learn that God is a God of justice, and that through the power of the gospel, Christians are called to live in ways that reflect this justice. In fact, scripture tells us that one of the most powerful ways that the church embodies the gospel is through the love and unity we demonstrate across economic, cultural and racial divides (Col 3:12-15). What does this look like in a fractured society?
At KW Redeemer, we believe that as the grace of Christ increasingly renews us, we become ministers of renewal, because as God's children – we desire to imitate our Father. As the gospel does its rich work in the church, we can bring renewal where God has placed us: in our work, relationships, and our neighbourhoods.
SPEAKERS
CHRISTINA EDMONDSON
Cristina serves as the Dean for Intercultural Student Development (ISDC) at Calvin College. Additionally, as a Certified Cultural Intelligence facilitator, public speaker and mental health therapist, Christina is often contacted by churches to consult about both diversity and mental health issues. Christina is a native of Baltimore, Maryland.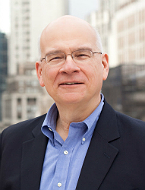 TIMOTHY KELLER
Timothy Keller is Chairman of Redeemer City to City and the founding pastor of Redeemer Presbyterian Church in Manhattan, which he started in 1989 with his wife, Kathy, and three young sons. For twenty-eight years he led Redeemer's diverse congregation of urban professionals that has grown into three churches. Dr. Keller was educated at Bucknell University, Gordon-Conwell Theological Seminary and Westminster Theological Seminary. He previously served as the Associate Professor of Practical Theology at Westminster Theological Seminary.
DANIEL HILL
Daniel is the founding and Senior Pastor of River City Community Church, located in the west Humboldt Park neighborhood of Chicago. The vision of River City is to see increased spiritual renewal as well as social and economic justice in the Humboldt Park neighborhood and entire city, demonstrating compassion and alleviating poverty as tangible expressions of the Kingdom of God.
Daniel has his B.Sc. in Business from Purdue University, his certificate in Church-based Community and Economic Development from Harvard Divinity School, and his D.Min. from Northern Baptist Theological Seminary.
JEMAR TISBY
Jemar (B.A. Notre Dame; MDiv RTS Jackson) is the president of The Witness: A Black Christian Collective where he writes about race, religion, and culture. He is also the co-host of "Pass The Mic," a podcast that amplifies dynamic voices for a diverse church. His writing has been featured in the Washington Post, CNN, Vox, and the New York Times. He has spoken nationwide at conferences on racial reconciliation and the church. Jemar is a PhD student in History at the University of Mississippi studying race, religion and social movements in the 20th century. His first book, The Color of Compromise, releases in early 2019.
SOONG-CHAN RAH
Dr. Soong-Chan Rah founded a multi-ethnic church in Chicago and is presently the Professor of Church Growth and Evangelism at North Park Theological Seminary in Chicago. He has authored many books including Prophetic Lament, A Commentary on the book of Lamentations; and co-author of Return to Justice. Soong-Chan received his B.A. in Political Science and History/Sociology from Columbia University, his M.Div. and D. Min from Gordon-Conwell Theological Seminary, his Th.M. from Harvard University, and his Th.D. from Duke University.
GABRIEL SALGUERO
Gabriel Salguero and his wife, Rev. Jeanette Salguero, are co-pastors of the multicultural Calvario City Church in Orlando. Much of their work focuses on racial reconciliation.
He has written extensively on ethics and race, multicultural ministry, immigration, and spirituality and public work. He has also served as an adviser to the White House on issues of immigration and health-care and the faith community.
REGISTER
Registration for the conference is $10 per person.
To register, CLICK HERE , choose "general" from the drop down menu and make a $10 donation.